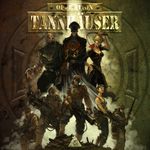 Tannhäuser
In 1949, this incessant war has been raging for 35 years and finally a secret archaeological dig has delivered to the Obscura Korps a long sought ancient relic. This artifact is thought to guard an ancient parcel of knowledge. The exact emplacement of one of the four dark cardinal corners of reality is on the verge of being revealed.
A portal leading to hell, this un-sanctified zone is found buried within the secular crypt of a fortress situated in the heart of central Europe. The Reich's 13th Occult Division is there now. They are about to call upon the Cohorts of Chaos to help them force the world into eternal servitude.
Parachuted behind enemy lines, a fistful of men and women are all the Union has left to thwart this peculiar menace. The Unions finest trained commandos armed with technology still in its experimental stages, the glory bound 42nd Alter-Marine Special Forces must now face the most terrible danger to face humanity in recorded history.
Tannhäuser goes beyond the standard package of set of characters, proposing a vast array of customization, allowing players to develop a unique tactic and style of play for their hero. 10 charismatic personalties await them to be groomed for battle, using over 70 magnificently illustrated types of tokens that faithfully depict various weapons, medals, ranks, powers and equipment.